The Protea, also known as sugarbush due to the sweet nectar contained within it, is a beautiful family of plants although certainly not something you'd find in the largely damp and often chilly climate of Northern England. Not outside of a well glazed botanical garden at least.
The Protea is native to South Africa, as well as other parts of the southern hemisphere, but is generally better known as being South Africa's national flower. They're surprisingly resilient too with them being able to survive regularly occurring bush fires. This brings me on to cricket, naturally. This word may fill the hearts of those reading either with dread or, like mine, with joy with it being one of my other hobbies outside of whisky. I mention this as Proteas is also the nickname for the South African cricket team which is quite appropriate.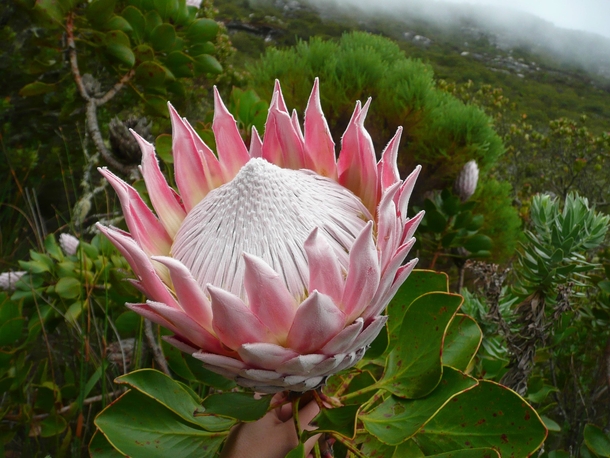 That's because the whisky in question not only hails from South Africa, is not only adorned with Protea on the box, but in fact was also produced by a former professional cricketer.
The James Sedgwick distillery sits on the banks of the Berg River in the town of Wellington at the foot of the Groenberg Mountain and the Bain's Kloof pass around 40 miles North East of Cape Town. The distillery is named after a former East India Company captain who was in his time one of the pioneers of the alcohol and tobacco industries, with the site first established in 1886. Owned by South African drinks giant Distell, who also own famous whisky names such as Bunnahabhain, Deanston and Tobermory – James Sedgwick has been a relatively unknown force in the whisky world outside of South Africa. The distillery is the only commercial whisky distillery on the entire continent of Africa. Whisky as an industry has only been going for just over 40 years in the country.
This brings me on to Andy Watts, who is someone that I've been fortunate enough to meet virtually but not yet in person in part due to current circumstances. Born in Yorkshire (no-one is perfect) Andy was a professional cricketer with Derbyshire (again I'll let it slide) back in the early 80's, and after a successful few seasons with the team (his batting and bowling averages actually have numbers next to them whereas mine just has 'below' preceding the word average), Andy decided to see what warmer climes had to offer and temporarily decamped to South Africa to play and coach cricket. After falling in love with the county, he moved there permanently. Whilst there he worked at Stellenbosch Farmers Winery, a precursor to Distell group. After a time, he was offered the position of spirit blender. The company previously had ties with Morrison Bowmore and this was where Andy was able to work in Scotland for a while to ply his trade under huge names such as Jim McEwan and Brian Morrison to name but a few.
After returning to South Africa which historically is more well known for its wines and brandies, Andy set about bringing the James Sedgwick distillery up to spec and speed. The distillery was previously set up for brandy manufacture, with whisky mainly produced at Robertson & Buxton (R & B) distillery in Stellenbosch, a region famous for its wine. After being appointed as manager in 1991, nine years later Distell group came in to being in 2000. In 2009 two new stills were installed, manufactured by Forsyth's and modeled on the stills in Bowmore distillery where Andy had spent some time under the watchful eye of whisky legend Jim McEwan. In 2016 Andy was promoted to 'Global Head of Whisky Intrinsic Excellence', now there's a mouth-full.
Going back to the distillery itself James Sedgwick is set up to produce both malt and grain spirit which is a rarity. Temperatures here can hit upwards of 40c (104 Fahrenheit for our American friends) so with that in mind the Angel's Share is much higher than that in Scotland. We're talking around 5% compared to Scotland's average of circa 2%. This may not sound like a lot but when you're looking at a warehouse full of barrels, 5% of your spirit is a lot to lose on your bottom line! This kind of climate can sometimes have a positive influence on the maturing spirit by giving it the opportunity it to gain a more mature character in a shorter amount of time. The warehouses here are racked rather than dunnage meaning that potentially a larger quantity of whisky can be stored although heat distribution won't be as regular unless casks are moved around the warehouse.
On the subject of Grain whisky, the distillery's own Grain whisky; Bain's which I reviewed here won Grain whisky of the year in 2013 and 2018 and this is in part when the world started to take more notice of South African whisky. This utilised 100% South African yellow maize in the mashbill which highlights the pride in local ingredients. Personally I always have a bottle of Bain's in the house given it works so well in highballs.
There is a group of whisky anoraks who have been trying to raise the profile of the distillery for a few years now. A small but dedicated corner of Twitter that have been chirping away for years. Here in the UK Bain's was until now the only widely available product from the distillery with many calling out for the release of Three Ships which spans both single malt and blended whisky in the portfolio. To that end our calls were finally answered with the announcement and subsequent release of Three Ships 12yr old Master Distiller's Private Collection which landed in the UK and other European markets just prior to Christmas 2020. The last time I'd tried Three Ships was the 10yr old way back in 2013.
A peated single malt bottled at what I'd describe as Distell strength of 46.3%, non-chill filtered, natural colour and matured in American oak casks.
Three Ships 12yr Old South African Single Malt Whisky – 46.3% – NCF – Natural Colour- RRP £45
On the nose there's initially powdered strawberry bon-bons. We then switch it up with an old and worn leather jacket with possibly a touch of cumin in the background too. There's also something here that reminds me of the smell of a brand new book, I miss bookshops. In comes ginger and golden syrup all the while with a soft, herbal and almost perfumed smoke in the background. Toto, I've a feeling we're not in Scotland anymore!
The palate kicks in with that smoke influence immediately but there's intense liquorice at the same time. Almost as if you're chewing on charred liquorice root rather than the traditional out-and-out peat smoke. There's more ginger but now alongside this there is vanilla and a lot of lovely warming spice at the back. As it heads in to the finish this spice becomes smoky and hot, but not in a bad way at all because to me this screams habanero chili which I love. Things start to become sweeter as things progress with blossom honey and milk chocolate.
The mouthfeel is faultless and the finish itself is long and thoroughly enjoyable, riding the wave of that habanero note and supported by tshat honey sweetness in the background.
In summary this is a fantastic debut and shows that the efforts over the last few decades have come thoroughly to fruition and is a credit to Andy and the team. There is depth of flavour, balance, complexity as well as strong presentation.
Andy is one of the nicest people you'll meet in the industry and has done a stellar job in promoting South Africa and it's whisky across the globe which makes this even more rewarding. Especially when factoring in the struggles that the South African alcohol industry is going through due to the COVID pandemic with several bans on alcohol sales with another in place as I write this article.
Anyway, without stretching the boundary any further today, I won't be adding any further spin in case I slip up. I was hardly stumped with things to say about this whisky but it really does have me bowled over.. (OK I'm done with the cricket puns).
Score: Outstanding
Fancy some tunes? The Malt Music for this dram is somewhat fitting. Doncaster in Yorkshire, England isn't what you might call tropical. Here however is where artist Skinny Pelembe was raised after being born in Johannesburg, South Africa. With a signature sound of warm and flowing guitar alongside almost hypnotic harmonies and sitting above satisfying dub drum beats, all the while retaining core African influences. One of my favorites is this; "the Seven Year Curse" which for me is a fantastic showing for this up-and-coming artist.
Scoring Scale:
Holy Grail – Indiana Jones himself can only hope to find such a treasure.
Unbelievable – Among the best I've ever had. Must be tried at all costs.
Outstanding – One you should try to get hold of. Qualities in abundance.
Very Good – One to have on the shelf regularly. Provides consistent enjoyment.
Good – I'd happily drink this. One to buy at the right price.
Solid – No particular flaws but no wow factor either.
Fine – There to take the edge off. Good for highballs and won't need much thought.
Meh – Somewhat flawed. More of a chore than a pleasure.
Oh Dear – Consistent flaws. Gets you where you're going at the speed you want to get there.
Please Make it Stop – Not one to seek out. Hope for a gift receipt.