I like trees. Don't get me wrong I've never chained myself to one to prevent the building of a new motorway bypass or anything like that but I do like them. There's something reassuring seeing something old but still full of life as well as their colours and differing appearances.
You see this the world over with different varieties in different countries but ultimately there will always be a sense of familiarity to them. Sadly woodland and forests in the UK are dwindling although efforts are being made to replant trees in some areas to rekindle long lost woodlands, most of which were felled historically to make room for farming and more recent developments.
Sweden is a particularly lush country, more than half (57%) of it is covered in forest so the Swedes know their way around a tree or two. Whilst timber is big business in the country meaning a lot of trees are felled, Sweden plants more trees than it fells so their forests have doubled in size over the last 50 years.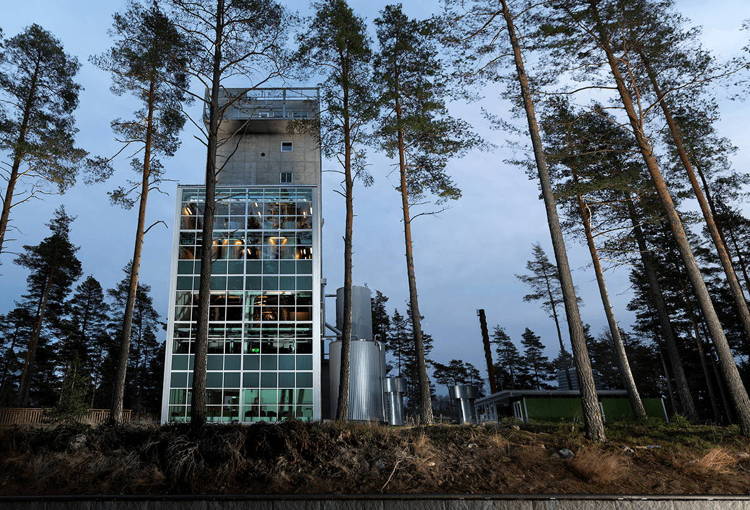 In one of those forested areas sits a whisky distillery. Mackmyra – which is probably the world's best know Swedish whisky distillery, is nestled just outside of Gävle in eastern Sweden. Founded in 1999 Mackmyra have always done things differently. Before we even get onto the topic of casks you only need to look at the 'Gravity' stills which operate in a more environmentally friendly way, the use of an old mine for cask storage and maturation, and the use solely of Swedish ingredients.
Mackmyra's master blender and CNO (Chief nosing officer) – Angela D'Orazio has led many interesting projects at the distillery since joining in 2004. We only need to look back over the last 12 months to see some of the more weird and wonderful casks used in some releases. A couple of which I've reviewed on the channel. We saw the delicious Grönt Te which saw whisky spend a period finishing in casks that previously held tea liqueur. More recently we had the admittedly difficult to pronounce Jaktlycka which, among others, was made up from casks that included ex lingonberry and blueberry wine.
Part of the appeal of these experiments (aside from them being very good on the whole) is that they tend to form part of their seasonal releases that coincide with the changing of the seasons and are tailored to reflect them. The Jaktlycka for example for the autumn seasonal release really did carry across a lot of autumnal flavours and connotations which in my view really added to the experience.
I find Mackmyra's spirit to be very satisfying in ex-bourbon as it's light, fruity but is also incredibly adaptable and does seem to work very well with cask experimentation. A lot of which you wouldn't be able to undertake if the distillery was magically transported across the sea and into Scotland.
Their latest single malt offering – BJÖRKSAV which is the latest Spring seasonal release was in part made up of Swedish oak casks that previously held locally sourced Swedish birch sap wine from the Grythyttan winery. Already in the space of two paragraphs we've seen lingonberry, blueberry and now birch sap wine. Is there anything the Swedes don't turn into wine? The wine itself is created by tapping the birch tree for it's sap just before it 'cracks' in the spring as the temperature rises.
Full cask Breakdown:
• ex-Bourbon, 200 Litres
• Oloroso-seasoned American Oak, 128–200 Litres
• Birch sap wine seasoned Swedish Oak / American Oak, 100–200 Litres
I find this cask choice particularly fitting given the birch tree is Sweden's national tree and really does seem to fit with their overall philosophy and approach to using local ingredients alongside their very unique production methods.
Note: This sample was provided to me by Mackmyra for review. As I say on the channel however – Just because this sample has been provided does not mean it will automatically get a favourable review.
Mackmyra Björksav – Natural Colour – Non Chill Filtered 46.1%- RRP £62
The dram has quite a rich appearance in the glass somewhere in between an ex bourbon and sherried dram which I'd probably best describe as deep gold.
On the nose there is initially sweet vanilla, Amaretto, crisp green apple adding freshness and ginger. Quite floral. After this there are pine needles, honey and a touch of Olbas oil. This is a moving feast as after this out comes warm baking and spice towards the back.
The palate carries a good texture. Delicious. Surprisingly tropical initially. Think mango, vanilla, banoffee pie and a second helping of more of it's biscuit base. Honey, Turkish apple tea, green tea, and nuts. Slightly waxy and spicy too.
The finish is long and warming with a good balance of that sweetness and spices with a touch of the lighter floral notes coming back in that reminded me of apple crisps.
Overall this is really, really lovely and very charming. I like what Mackmyra do and how they do it and this whisky is no exception. With this team and approach to whisky making, I can see Mackmyra continuing to do great things for many years to come and is yet another firm reminder that whisky doesn't start and end with Scotch.
Skål.
Score: Outstanding
Fancy some tunes? The Malt Music for this dram comes from Malian four piece Songhoy Blues who combine uplifiting beats and guitar with some more traditional Malian influences. This track – Bon Bon – is a remix from Mike Lindsay and for me is a really uplifting piece of music, a bit like the whisky itself.
Holy Grail – Indiana Jones himself can only hope to find such a treasure.
Unbelievable – Among the best I've ever had. Must be tried at all costs.
Outstanding – One you should try to get hold of. Qualities in abundance.
Very Good – One to have on the shelf regularly. Provides consistent enjoyment.
Good – I'd happily drink this. One to buy at the right price.
Solid – No particular flaws but no wow factor either.
Fine – There to take the edge off. Good for highballs and won't need much thought.
Meh – Somewhat flawed. More of a chore than a pleasure.
Oh Dear – Consistent flaws. Gets you where you're going at the speed you want to get there.
Please Make it Stop – Not one to seek out. Hope for a gift receipt.