The Fettercairn distillery is an interesting one. Founded in 1824 by the owner of Fasque estate Alexander Ramsey, Fettercairn remains one of the oldest distilleries in Scotland.
Part of the Whyte and Mackay group, which includes well known distilleries such as Jura and Dalmore; Fettercairn has always been quietly in the background doing its thing by supplying malt for blends across the industry for which it was highly regarded. A few years back two single malts were released called Fior and Fasque to bring a new single malt option to the mass markets. Fior was my preference of the two but they didn't really capture anyone's imagination at the time and were eventually discontinued.
Fettercairn has recently undergone another re brand but this time have been releasing age statements at higher strengths, including 12yr old, 16 yr old and a 22 yr old, which is the bottle that I'll be looking at in this review. There are older bottles out there at 40, 46 and 50 years of age but these are at, what are in my opinion, mindboggling prices. I've noticed this a lot recently and this isn't exclusive to Fetttercairn or the wider W&M group. Don't get me wrong, 50 years is a long time, 18 years more than my existence on this spinning ball of rock in fact (at the time of this article) but £19k!? In the words of Mugatu in 2001's Zoolander – "I feel like I'm taking crazy pills".
In the last couple of decades there haven't been many official expressions aside from the aforementioned F's but you do come across Fettercairn in independent bottlings from time to time. Whilst this is the second rebrand of the last 10 years, one thing has remained consistent throughout the branding; the fabled unicorn. The unicorn, as well as being the national animal of Scotland (can we call a mythical creature an animal?), has a close association with the distillery. No, there isn't a unicorn sanctuary on site I'm afraid. The unicorn is seen as representing purity and strength and also forms part of the founding Ramsay clan crest. Now a 50yr old whisky sold in a box made of unicorn horn? Then we might be talking £19k…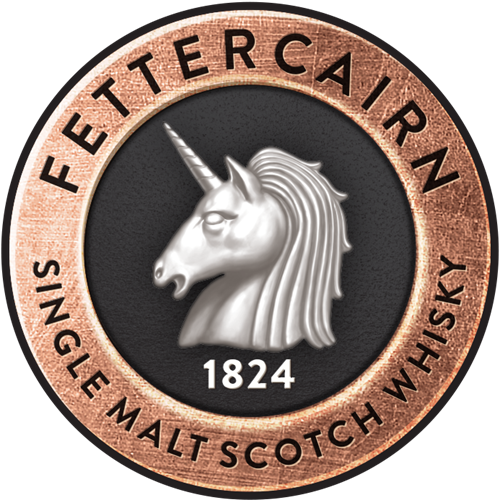 The distillery has a bit of a reputation for having a unique, and in some senses sporadic spirit. There are generally some core notes in their bottles such as orange, chocolate and an inerrant earthiness, but they veer wildly between bottlings and age ranges, more so than other comparable distilleries. In short and to quote another Hollywood epic, you never know what you're going to get.
Going back a bit in time again, historically fires were not uncommon in the Scotch whisky industry. In the 19th and early 20th centuries the HSE (Health & Safety Executive) didn't exist and neither did the more recent controls around building regulations, electrical installations or fire protections. Add to that the burning of peat, the heating of stills via direct fire, coupled with the presence of several thousand gallons of spirit and you have yourself a tidy tinderbox. Fettercairn was certainly no exception to the rule when the distillery burned down in the 1880's and was rebuilt in 1890.
Moving forward a few years and the distillery was mothballed between the mid 1920's and 1939 due to various liquidations, but has run pretty consistently in the following decades. However, it has changed hands a few times along the way.
I was fortunate enough to be included in the Whisky Wire's Greg Glass Tweet Tasting, celebrating W&M's master blender and the whiskies he has created, which is where this sample came from. Thanks to both parties for the inclusion and as I always say on the YouTube channel: Just because a sample has been provided to me does not mean this will receive a favourable review as a result.
Fettercairn 22yr Old 47% Chill Filtered and contains added E150a colouring. RRP £170
The 22yr old is matured exclusively in American oak casks. In terms of the strength its always great to see a higher than usual number and at 47%, this tops even the generally preferred 46%. On the flip side, a whisky of this stature containing E150a is a disappointment but also not a huge surprise given Whyte and Mackay's penchant for adding it to the vast majority of it's portfolio. Chill filtration, again if I was landing 170 notes on a whisky, which is already above other established competitors in the 21yr + range, I'd be a bit gutted to see this.
Given the colour isn't natural I won't comment on this in this review.
On the nose there are cola cube sweets, a tart raspberry jam and an intense spice. There's a touch of vanilla sponge cake before a prominent sour black cherry note comes to the fore. After this there is warm banana bread and polished wood.
On the palate the mouthfeel is good despite the chill filtration but I can't help but feel wistful as how good it could have been without it.
Initially there's a big hit of black pepper and spices. This mellows out to plum crumble and vanilla custard. There's some Terry's Chocolate Orange alongside a fleeting hint of dark roast coffee. There's something of a woody funkiness that comes in mid palate that really does remind me of Jura, another in the W&M stable.
The finish is long and warming with a well balanced sweetness and cinnamon.
Have we stumbled across a 'unicorn' here in the 22yr old Fettercairn? This is a good whisky, is it a £170 whisky? That's for you to decide, and like the Glenturret 12 review I haven't factored price into the overall score. I felt a bit underwhelmed at the presentation given this is what W&M and the consumer will see as a 'luxury' bottling, but I suppose this falls in line with their more generalised marketing and bottling strategy.
I feel this carries that Fettercairn characteristic of being pretty whacky. not in terms of flavour but how it can change so quickly from soft sweetness and spice to tart and sour notes that aren't unpleasant just unexpected. Pretty fun indeed and certainly keeps you on your toes.
Score: Good
Fancy some tunes? The Malt Music for this dram comes from Honeyblood, the solo project of Stina Tweeddale of Glasgow. The music itself carries garage rock and punk vibes with intense and powerful riffs and vocals. This particular song, Sea Hearts comes from Honeyblood's 2016 album.
Scoring Scale:
Holy Grail – Indiana Jones himself can only hope to find such a treasure.
Unbelievable – Among the best I've ever had. Must be tried at all costs.
Outstanding – One you should try to get hold of. Qualities in abundance.
Very Good – One to have on the shelf regularly. Provides consistent enjoyment.
Good – I'd happily drink this. One to buy at the right price.
Solid – No particular flaws but no wow factor either.
Fine – There to take the edge off. Good for highballs and won't need much thought.
Meh – Somewhat flawed. More of a chore than a pleasure.
Oh Dear – Consistent flaws. Gets you where you're going at the speed you want to get there.
Please Make it Stop – Not one to seek out. Hope for a gift receipt.